About Aibrean's Studio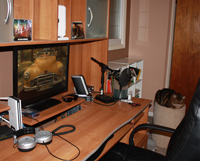 Aibrean's Studio (Aibrean is Irish for April) has been owned and operated by April Sadowski since 2003. No, there is no shop front. No, there aren't any employees.  This studio is defined by Google as "a room where an artist, photographer, sculptor, etc., works", which is usually the room you can see pictured to the left. Clients range from industrial and corporate, to musicians and non-profit groups. With the diversity in experience, April can cater to a wide range of clients and preferred design types. April is not limited to working with clients in the Dayton and surrounding areas. Clients are as far away as California, Toronto, Quebec, Florida, Georgia, Wisconsin, Maryland, and beyond.
April has experience with niche marketing to the Latino community (such as Professional Latinos in Entertainment, La Corporación Muzic, Maxim en Espanol, and Linda Lopez).
As a supporter of the local economy, you can be assured that April will try to work with local businesses and vendors for your project. April is more than willing to cater to your local needs and can easily work with your own printer remotely. April doesn't outsource design work. If there is something she can't do (such as programming), you will be referred to people who can and April can work with them, with you.
About April Sadowski
April Sadowski is a full-time graphic and web designer, Art Director at ThinkTV, and an alumnus of The School of Advertising Art. She is a member of AAF-Dayton and Dayton Creative Syndicate and has won three bronze ADDY Awards there for excellence in web and logo design, a bronze ADDY for a public service campaign, and has been nominated for an Emmy in Interactivity by NATAS Ohio Valley. Recently, April's work was selected for inclusion in LogoLounge Volume 7, published in July of 2012 and iheartlogos 3, published in January 2013. In February, 2013, April will have two additional ADDY awards. The level is unknown as of yet.
With over nine years of experience working in both in-house and design firm capacities, April is easily able to work solo or within a team environment. She strives for designs that are unique and results-driven. April uses the Adobe Creative Suite (currently CS6) as well as HTML/CSS. Preferences for graphic design are Photoshop, Illustrator, and InDesign. Preferences for web design are Photoshop and Dreamweaver (hand-coded with little dependence on WYSIWYG).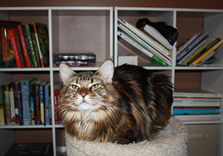 Besides design, April is also a writer, voice actor, and producer in her free time. She has written several novels available for viewing here, and four audio dramas through Nother Audio. She is a webmaster and producer at Misfits Audio (Snape's Diaries, Tom Riddle's Diary, Sally vs the Alligator, and Nutcracker Mania) and Nother Audio (Lady From Day, Out of Time, The Huntsman Legion, Time Distortion Day Trip, and Partly Sunny). Her voice acting (recorded using Adobe Audition with a Shure KSM27 mic) is extensive including various roles in on-going productions at TWERP,Darker Projects, Imagination Lane, Misfits Audio, Colonial Radio, and BrokenSea Audio Productions. She is available for professional voice acting needs as well.
She lives in Xenia, Ohio with her husband, daughter, and three cats (who frequent her office often). Pictured to the left is Sasha, a Maine Coon who likes to pretend she's a dog.
Contact April Sadowski
Email: services [at] aibrean [dot] com
Phone/Text: 937-736-0AIB (242)
Fax: 614-559-6706
AIM, Gtalk, Skype: AibreanStudio